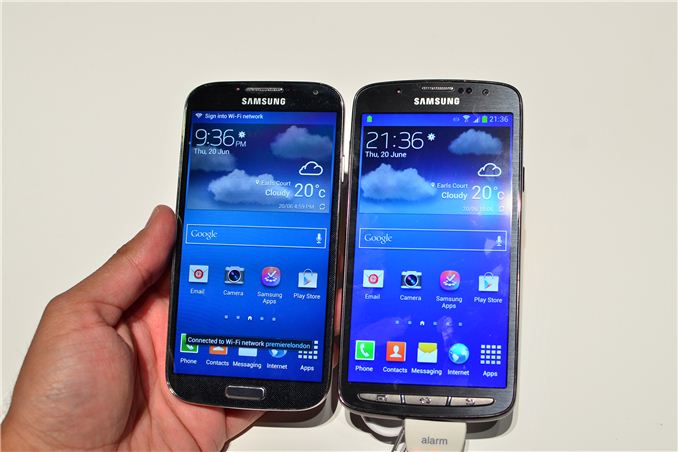 While I was in Taiwan, Samsung announced the Galaxy S 4 Active - a ruggidized version of the Galaxy S 4. To simply call it ruggedized however is not doing the design justice. The SGS4 Active is IP67 certified, meaning it's fully sealed against dust and submergible in 1 meter of water for up to 30 minutes. The resulting design is a bit bigger than the standard Galaxy S 4, but in hand feel is actually not bad at all - especially when you consider what you get with the added dimensions. I noticed the added width in my time with the device. Thickness and weight were tought to gauge as the device was tethered to the demo table. Going by the numbers alone however, it's not all that substantial.
The finish is a bit different than the SGS4, and you get three physical buttons on the front instead of just one. The touch screen won't work under water, which is why you get additional physical buttons on the Active model.
Display resolution and PPI remain unchanged, but the Active ditches Super AMOLED in favor of a standard TFT LCD - which will be a plus for many I suspect. The only other change is in the camera department. The Active loses the 13MP sensor and sticks with an 8MP rear facing camera. The SoC is still the same quad-core 1.9GHz Qualcomm Snapdragon 600 (APQ8960AB) from many variants of the SGS4.
SGS4A vs SGS4 Comparison
SGS4
SGS4 Active
Length
136.6 mm
139.7 mm
Width
69.9 mm
71.3 mm
Thickness
7.9 mm
9.1 mm
Weight
130 g
151 g
Display
5.0-inch 1080p SAMOLED
5.0-inch 1080p TFT LCD
Camera
13 MP with LED Flash
8 MP with LED Flash
When I got back from Taipei, Brian mentioned the SGS4 Active as something he was very interested in. After seeing it in person, I can understand why. As high end smartphones all tend to be based on the same platforms from the same SoC vendors, it's good to see differentiation along new lines. I used to only hear about ruggedized computing in industrial or military applications, but there's absolutely a market for smartphones that can withstand a drop in a toilet. Especially given how few sacrifices are made in pursuit of the SGS4 Active, it seems like a very well thought out approach to those users who want a high-end smartphone with some serious durability features.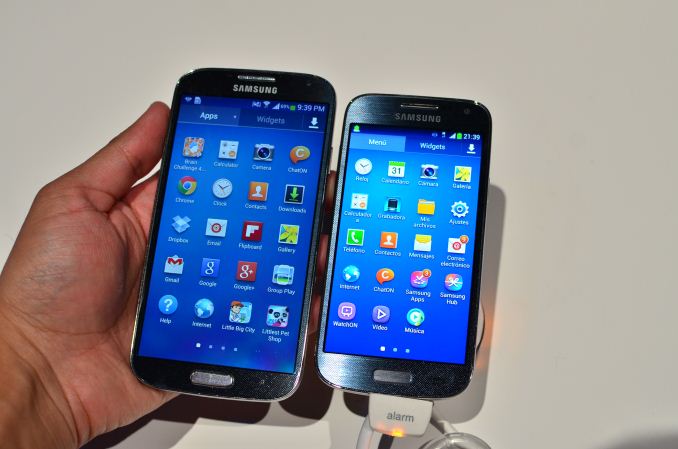 I also had the opportunity to play with the Galaxy S 4 mini, a 4.3" qHD version of the Galaxy S 4 with a Qualcomm MSM (dual-core 1.7GHz Snapdragon 400 with Adreno 305). I've found myself agreeing with Brian and Vivek quite a bit: 4.3-inches is really the ideal smartphone display size for me. The iPhone 5 is still a bit too small, and the SGS4 is a bit too big.