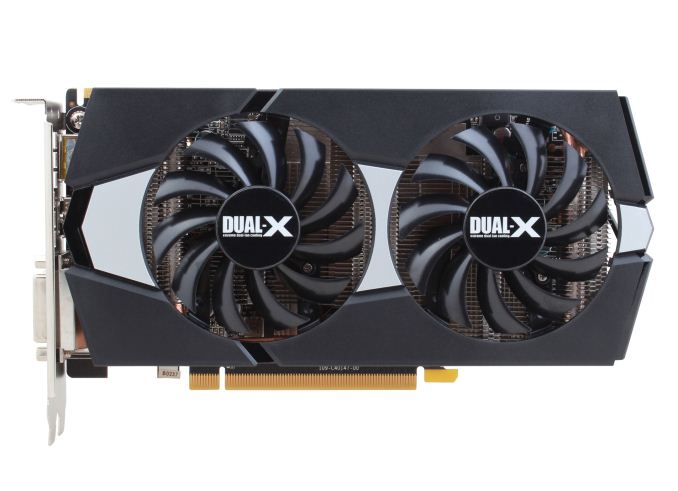 After initially missing their planned availability window of late February, AMD sends word this evening that the first Radeon R7 265 SKUs have finally reached North American retailers.
Sapphire's R7 265 Dual-X, which we reviewed back on February 13th, is the first SKU to hit Newegg. This is a reference clocked model with 2GB of VRAM, utilizing Sapphire's tried-and-true Dual-X cooler.
AMD GPU Specification Comparison
AMD Radeon R9 270
AMD Radeon R7 265
AMD Radeon R7 260X
AMD Radeon R7 260
Stream Processors
1280
1024
896
768
Texture Units
80
64
56
48
ROPs
32
32
16
16
Core Clock
900MHz
900MHz
N/A
N/A
Boost Clock
925MHz
925MHz
1100MHz
1000MHz
Memory Clock
5.6GHz GDDR5
5.6GHz GDDR5
6.5GHz GDDR5
6GHz GDDR5
Memory Bus Width
256-bit
256-bit
128-bit
128-bit
VRAM
2GB
2GB
2GB
1GB
FP64
1/16
1/16
1/16
1/16
TrueAudio
N
N
Y
Y
Transistor Count
2.8B
2.8B
2.08B
2.08B
Typical Board Power
150W
150W
115W
95W
Manufacturing Process
TSMC 28nm
TSMC 28nm
TSMC 28nm
TSMC 28nm
Architecture
GCN 1.0
GCN 1.0
GCN 1.1
GCN 1.1
GPU
Pitcairn
Pitcairn
Bonaire
Bonaire
Launch Date
11/13/13
03/05/14
10/11/13
01/14/14
Launch Price
$179
$149
$139
$109
Meanwhile, to our amazement the card is listed at $149 – AMD's MSRP – rather than retailing at a higher price. Between bitcoin miners and the tendency for recently launched products to retail $10 or so above MSRP, we weren't expecting to see 265 hit shelves at MSRP for any period of time, so this comes as a pleasant surprise. Though we'll still be keeping an eye on prices since it remains to be seen whether these prices will hold.
With this launch AMD's counter to NVIDIA's recently launched GeForce GTX 750 Ti is finally on the market. As we saw in our review of that card, AMD and NVIDIA have taken widely divergent paths at $149, so each product will have its strengths and weaknesses. The R7 265 cannot match the GTX 750 Ti's sub-75W power usage (or overall power efficiency), but it does offer better performance, beating the GTX 750 Ti by around 19%.
Source: AMD