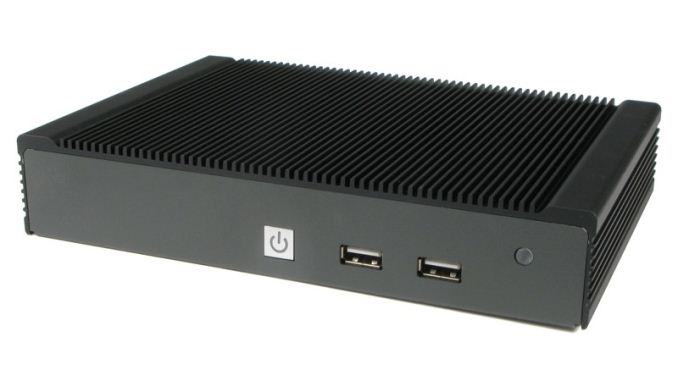 Introduction
Computers with completely passive cooling systems are advantageous in many respects. These aspects turn out to be very important for many industrial applications. Though a majority of fanless x86-based PCs in the market are based on the anemic Atom platform, there has been a sudden spurt in industrial PCs based on more powerful CPUs. The Aleutia Relia and the Habey BIS-6922 are examples of the general direction in which this market space is moving. However, the thermal designs for CPUs with TDPs upwards of 35W call for heavy units and the size itself might not make the cut for certain use-cases.
Logic Supply is one of the popular vendors in this 'passive industrial PC' niche. A couple of years back, we reviewed their AG150 fanless system based on Intel's Cedar Trail. The low power and ultra-compact nature of the Intel NUC motherboards make them perfect candidates for passive, yet small, industrial PCs. Logic Supply has designed a custom chassis for the Haswell NUC motherboards. While they do sell the chassis standalone, what we have in for review today is a fully assembled system in the ML 320 NUC chassis. The configuration of the review unit sent over by Logic Supply is provided below.
Logic Supply Core-ML320 Industrial PC Specifications
Processor
Intel Haswell Core i5-4250U
(2C/4T x 1.90 GHz (2.60 GHz Turbo), 22nm, 3MB L2, 15W)
Memory
2 x 8GB DDR3L-1600
Graphics
Intel HD Graphics 5000
200 MHz / 1 GHz (Turbo)
Disk Drive(s)
32 GB Emphase mSATA SSD + 60 GB Emphase 2.5" SSD
Networking
1 x Gigabit Ethernet
Audio
Capable of 5.1/7.1 digital output with HD audio bitstreaming (mini-HDMI / mini-DP 1.2)
Operating System

Windows 7 Professional 64-bit (Retail unit has choice of OSes including barebones option)

Pricing (As configured)
~$1300 (Varies depending on customization)
Full Specifications
Core-ML320 Specifications
Our review unit came with the above internal configuration. In addition, we had the installation disk for a OEM copy of Windows 7 Professional x64, a 65 W DC power adapter, two antennae for the Wi-Fi / Bluetooth add-on card and an assortment of screws / rubber feet for the placement of secondary drives inside the chassis as well as wall-mounting the unit (if necessary).
The first section of our review will deal with the motherboard features and thermal design. A few benchmark sections are followed by notes on power consumption and thermal performance before we move on to the concluding remarks.
Prior to moving on with the rest of the review, we have a small table that gives an overview of the various systems that we are comparing the Core-ML320 against. Note that they may not belong to the same market segment. In fact, the Habey BIS-6922 is the only passive industrial PC in the mix. (Even though we evaluated the Aleutia Relia before, it doesn't find a place in the comparison graphs since it couldn't be put through our updated benchmark suite). The relevant configuration details of the machines are provided so that readers have an understanding of why some benchmark numbers are skewed for or against the Core-ML320 when we come to those sections.
Comparative PC Configurations
Aspect
Logic Supply Core-ML320
CPU
Intel Core i5-4250U
Intel Core i7-3720QM
GPU
Intel HD Graphics 5000
Intel HD Graphics 4000
RAM
Transcend TS1GSK64W6H
11-11-11-28 @ 1600 MHz
2x 8GB
Super Talent W1333SB4GH
9-9-9-24 @ 1333 MHz
2x 4GB
Storage
Emphase Enterprise mSATA G5RM3G032-M (32 GB)
Emphase Wide-Temp SATA T6VM6G060-2 (60 GB)
Intel® SSD 330 Series (60 GB, SATA 6Gb/s, 25nm, MLC)
Wi-Fi
Intel Centrino Advanced-N 6235
(2x2 Dual-Band 802.11n - 300 Mbps)
N/A