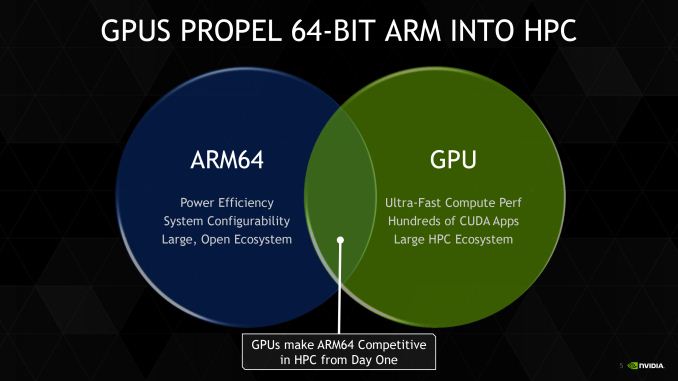 Kicking off this week for the world of supercomputing is the 2014 International Supercomputing Conference in Leipzig, Germany. One of the major supercomputing conferences, ISC is Europe's largest supercomputing conference and as one would expect, an important show for companies vested in high performance computing (HPC) and other aspects of supercomputing. We'll see a few announcements out of ISC this week, and starting things off will be NVIDIA.
NVIDIA will be taking to the ISC show floor to announce that their Tesla products will be adding ARM64 host compatibility, enabling them to be used in ARM64 systems. NVIDIA has been a supporter of the ARM ecosystem for some time through the use ARM cores in their Tegra SoCs and by enabling CUDA on ARM processors. Adding 64bit ARMv8 (ARM64) support then is a logical extension of this by bringing their hardware and toolkit forward to the new generation of 64bit ARM processors.
However while NVIDIA's previous ARM works have been focused on consumer uses, today's Tesla ARM64 announcement is focused on the professional computing side and hence the use of ISC as a backdrop for this announcement. With today's announcement NVIDIA is expanding their Tesla and HPC efforts into the ARM ecosystem, intending to bootstrap and support the growing use of ARM CPUs as the core processors in HPC setups. ARM CPUs have already made some headway into the micro server space for tasks that require many low performance threads, however it's not until ARMv8 that ARM processors have gained the ability to address enough memory and have gained enough in performance to be useful in HPC applications. With the increased capabilities of ARM64 processors, HPC system builders can now design systems around ARM, with NVIDIA taking up their now well-defined position as a GPU supplier to provide their highly parallel processors to complete these systems.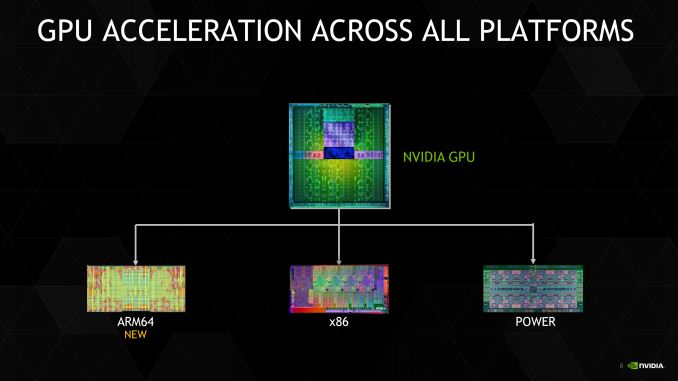 All things considered NVIDIA is not necessarily introducing new functionality or new performance, but the addition of ARM64 support means that NVIDIA is hedging their bets in the server space. The company already supports Tesla products connected to x86 servers in traditional HPC setups, will offer deeper Tesla support on POWER platforms through their forthcoming NVLink interconnect, and now the company is covering the other end of the spectrum by offering Tesla support for ARM64 platforms. So far the ARM architecture has yet to prove itself in the HPC market beyond some very specific micro server roles, but with NVIDIA's continued success in the HPC market and the potential for ARM to disrupt the traditional x86 market, it's not surprising to see NVIDIA hedging their bets just in case that disruption occurs. No matter what happens – x86 holds, POWER takes off, or ARM disrupts – NVIDIA intends have the market covered.
To that end, along with today's announcement of ARM64 compatibility NVIDIA is also announcing the first Tesla ARM64 development platforms. In July, Cirrascale will be shipping their RM1905D 1U development platform, which contains a pair of Applied Micro X-Gene CPUs along with a pair of Tesla K20 accelerator cards. Meanwhile E4 will be shipping their EK003 system, a 3U system with two X-Gene CPUs and two Tesla K20s.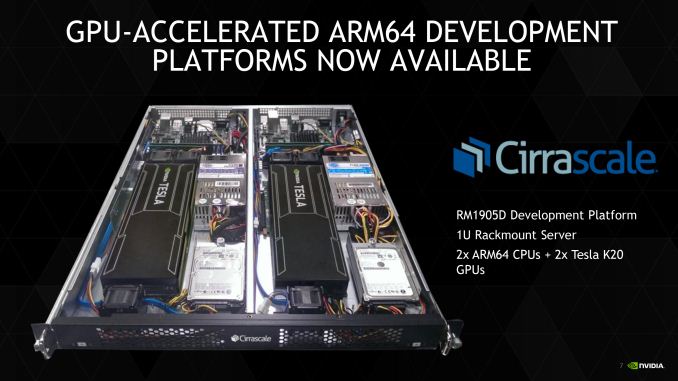 The Tesla cards of course need no introduction, and meanwhile the X-Gene is an in-house design from Applied Micro that has 8 ARMv8 cores clocked at 2.4GHz. We have previously looked at the X-Gene design a couple of years back, and while they didn't end up being the first shipping ARMv8 design (Apple's Cyclone beat them), they are the first ARMv8 design shipping with the appropriate PCIe support to be paired up with Tesla cards. At the time Applied Micro was shooting for a fairly aggressive performance level, but as of right now we don't know how the X-Gene compares to other ARMv8 designs such as Cyclone, Cortex-A57, and NVIDIA's own Denver.
Finally, being released in conjunction with these platforms will be the CUDA 6.5 toolkit, which will be introducing ARM64 support on the CUDA side. NVIDIA has not announced a release date for CUDA 6.5, and at this point it's safe to assume it's a development release alongside these ARM64 development platforms.