Adesso SlimTouch WKB-4400
The Adesso SlimTouch WKB-4400UB is a wireless keyboard / touchpad combo. Using 2x AAA batteries, it operates in the 2.4 GHz range and has an advertised range of 30 ft. The size of the device (18" x 6.5") is a bit more compared to the WKB-3000 (15" x 6.1") that we saw in the previous section. Therefore, HTPC usage is not the primary target market for this device. Adesso markets this device as an all-in-one solution for desktop PC users who wish to avoid wire clutter and too many devices on their desk.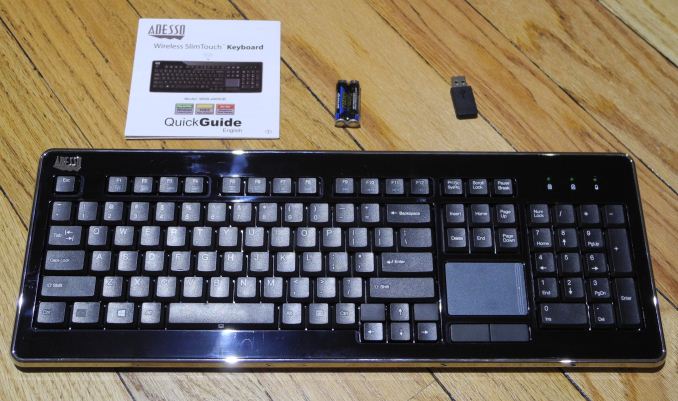 Keeping the target market in mind, this wireless device is a full-sized keyboard with 104 keys (including a dedicated numeric keypad). In order to accommodate the touchpad in the area usually allocated to the arrow keys, the Ctrl keys have a reduced size compared to traditional keyboards. Users familiar with notebook keyboards will not find anything strange, though those migrating from the separate keyboard / mouse solutions may take some time getting used to the different location of the arrow keys. The layout is also responsible for our main complaint against the unit - the small size of the Glidepoint touchpad (2.25" x 1.5") which also integrates scrolling functions.
Befitting the desktop usage scenario, the keyboard provides the capability to have a raised position for the unit when kept on a flat surface. There is an explicit on/off toggle switch, magnetized recessed receptacle for the USB key and a Connect button to alter the communication frequency - all these are excellent features to have.
In terms of keyboard layout, there is not really much to complain about. The keys have a life-expectancy of 5 million cycles. The low-profile membrane key switch is quiet and enables faster typing, but the soft touch feel might not be to the liking of certain users. The buttons under the touchpad could also be a little less noisy. It would also be nice to have some sort of gesture support for actions on the touchpad. The keyboard has a chrome finish on the borders to add style, though, again, it might not appeal to all consumers equally.
All in all, this is an effective device with scope for improvement in the size of the touchpad. A glossy / fingerprint-magnet finish could also be avoided in future iterations. The device currently sells on Amazon for $71.