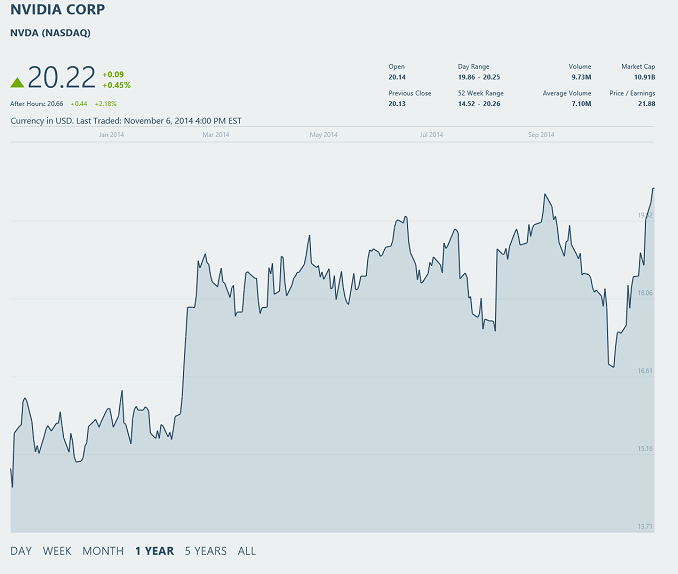 This afternoon NVIDIA announced record revenue for their fiscal year 2015 quarter three, which ended October 26th of this year. For those that do not follow financial data, fiscal years and calendar years are only the same in that they have twelve months. NVIDIA has the fiscal year that is the most out of sync with the calendar year of the tech companies we cover. With that housekeeping out of the way, we can get to the meat of the data. NVIDIA has had a very strong Fiscal Year (FY) 2015 so far, with a Q3 revenue of $1.23 billion, which is up 16% year-over-year. Revenue for the FY so far is also a record at $3.43 billion, up 15% over the end of Q3 last year.
Gross margin for Q3 was 55.2%, down 0.2% from last year and 0.9% since last quarter. Operating expenses were up 5% at $463 million, and net income was up significantly at $173 million. The net income gains are 35% sequentially, and 45% year-over-year. Earnings per share came in at $0.31, up 41% from last quarter and 55% from last year. The beat analyst's expectations of $0.29 per share.
NVIDIA Q3 2015 Financial Results (GAAP)
In millions except EPS
Q3'2015
Q2'2015
Q3'2014
Q/Q
Y/Y
Revenue
$1225
$1103
$1054
+11%
+16%
Gross Margin
55.5%
56.4%
55.7%
-0.9%
-0.2%
Operating Expenses
$463
$456
$443
+2%
+5%
Net Income
$173
$128
$119
+35%
+45%
EPS
$0.31
$0.22
$0.20
+41%
+55%
During Q3, NVIDIA paid $46 million in cash dividends, and purchased back 16.8 million shares under a $310 million repurchasing agreement. NVIDA has paid $140 million in dividends so far this fiscal year, and repurchased 44.2 million shares, which results in $950 million returned to shareholders through the first three quarters of FY 2015. They stated their intention is to return an additional $600 million in FY 2016.
For shareholders on record as of November 21st, NVIDIA will pay a quarterly dividend of $0.085 per share on December 15th.
NVIDIA Quarterly Revenue Comparison (GAAP)
In millions
Q3'2015
Q2'2015
Q3'2014
Q/Q
Y/Y
GPU
$991
$878
$877
+13%
+13%
Tegra Processor
$168
$159
$111
+6%
+51%
Other
$66
$66
$66
flat
flat
NVIDIA launched the new Maxwell based GeForce GTX GPUs during the last quarter, which have proven to be a solid performer in our testing. GPUs continue to be the largest revenue generator for NVIDIA, and with the latest product launches revenue for the GPU unit is up 13% year-over-year and quarter-over-quarter. GeForce branded GPU revenue was up 36% based on the continued strength of PC gaming. Within the gaming segment, gaming notebook sales with NVIDIA inside more than doubled as compared to a year ago. Also in the GPU segment is the Tesla GPUs and GRID for high performance computing and datacenter GPU functions, and while exact numbers were not released, NVIDIA stated they had strong grown in this sector, with another record quarter for revenue for Tesla driven by "large project wins with cloud service providers and government customers." The final piece of the GPU pie is Quadro. Once again, they do not break down the individual GPU segment numbers, but NVIDIA stated Quadro revenue remained strong for the quarter.
Tegra processors sales grew 51% year-over-year, which design wins in automotive infotainment being a strong part of this. NVIDIA said that over six million vehicles on the road have infotainment systems that are powered by NVIDIA processors. Automotive infotainment system revenue nearly doubled year-over-year. On the mobile side, they have also launched the K1 for tablets including the NVIDIA SHIELD and the just released Google Nexus 9. Chromebooks are also finding use for the K1.
The final piece of revenue for NVIDIA is a $66 million licensing agreement with Intel.
For Q4 2015, the outlook is revenue of $1.20 billion, plus or minus 2%. Margins are expected to come in between 55.2% and 55.5%, plus or minus 50 basis points. Operating expenses will be approximately $470 million (GAAP), and a tax rate for Q4 at about 18% plus or minus 1%.
This has been a great year for NVIDIA, with their diversification into mobile starting to get them some product wins, but more importantly for their bottom line they have seen an explosion of growth in the automotive sector. The GPU business also has a great lineup at the moment, especially with the Maxwell GTX lines. The doubling of gaming laptop sales is also great for the PC industry, and helps us understand why we have seen a plethora of new devices announced. Assuming NVIDIA keeps up its record pace for Q4, FY 2015 will be a benchmark for them in the future.
Source: NVIDIA