Toshiba Chromebook 2 Performance
After all the praise of the last page, this is the one area where the Toshiba Chromebook comes up short. Here I have to take some exception with Intel's decision to brand some of the formerly Atom as Celeron, as even the older Sandy Bridge, Ivy Bridge, and Haswell Celerons could offer decent performance. Intel's Atom has a well-deserved reputation for being merely "fast enough", and it primarily goes up against ARM SoCs these days. However, while performance (at least on the CPU portion) is respectable compared to ARM, it's a pretty sizeable step down from the Celeron 2955U, never mind the upcoming Broadwell-U Celeron 3205U. And if the CPU performance is somewhat questionable, the GPU results are downright poor. Here's the performance of the Toshiba Chromebook 2 in numbers, keeping in mind that there really aren't a lot of Chrome OS benchmarks available.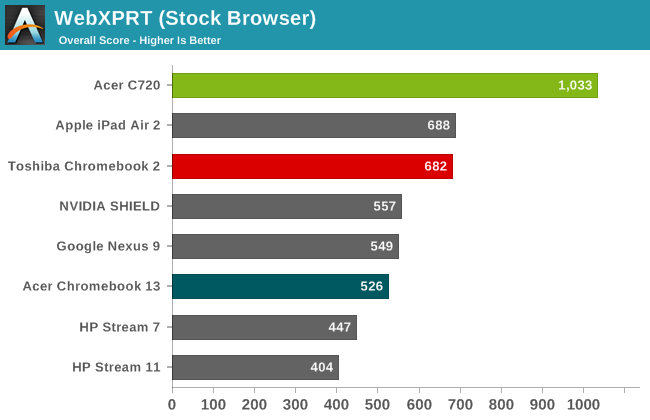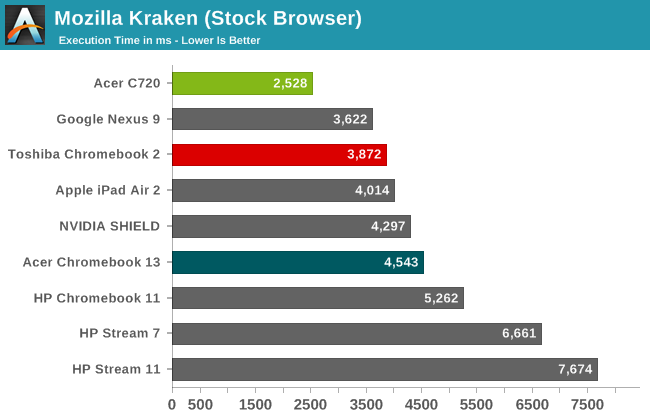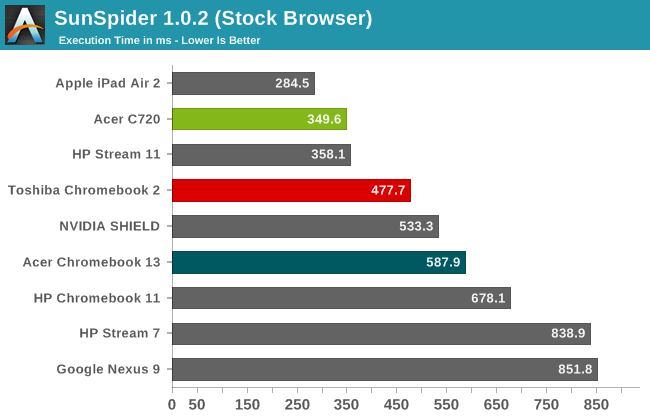 Additional Performance Results
Acer C720
Acer CB13
Toshiba CB35
CrXPRT
96
55
61
CrXPRT Battery (Hours)
8.52
9.9
7.58
OORT Online (WebGL)
3270
4010
1420
Spacerocks (WebGL - FPS)
18
30
11
WiFi FTP Download (Mbps)
100
115
175
The CPU of the N2840 is able to surpass most ARM processors (at least, those that we've tested) in terms of performance. The problem is that the GPU is quite a bit slower than the competition. Take NVIDIA's Tegra K1 SoC, which pairs one of the fastest SoC GPUs with a respectable ARM-based CPU; by contrast, the N2840's CPU is generally faster than the Tegra K1's CPU, but the GPU ends up being substantially slower – less than half the performance by our numbers. For a browser-centric OS like Chrome OS, I'm not sure it matters all that much, but as we discussed earlier there are cases where graphics performance still matters – like YouTube 1080p60 content.
Of course, outside of 1080p60 and a few games, I continue to struggle to find a need for faster graphics performance on Chromebooks. If you have similar feelings the Atom N2840 should be a reasonable compromise. In Octane, Kraken, and SunSpider, the N2840 consistently beats the Tegra K1 and in some cases it even ties (roughly) Apple's A8X. However, we still have to account for the Celeron 2955U that pretty much tops our performance charts – and that's a nearly two years old processor that is going to be superseded shortly.
As it stands, performance from the Celeron N2840 is significantly lower than what we measured with Celeron 2955U, edging out the Tegra K1 but not by a lot. It's certainly "fast enough", just like the Acer Chromebook 13, but compared to the Acer C720 the performance gap is very noticeable. This is why I'm really looking forward to testing the upcoming Acer Chromebook 15 with a Celeron 3205U (or maybe even a Core i3) – performance even when just surfing the web can still matter, especially when viewing webpages like Google Drive.
Tangentially related to performance, it's worth noting that the Toshiba Chromebook 2 includes 802.11ac WiFi, with a 2x2 spatial stream solution. Over the local network, I was able to copy files at up to 175 Mbps, which beats the Acer CB13's 115 Mbps and the C720's 100 Mbps. This testing however was done via FTP transfers to a local system, which may not be the best indication of maximum WiFi performance. It would be great if there was an easier way to connect to local Windows shares, but as far as I can tell that's not an option.