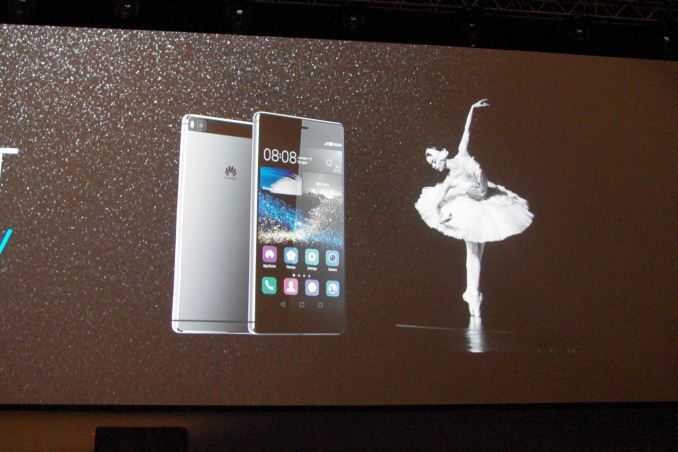 Today at the London launch event Huawei announced two new successors in the Ascend P-series of smartphones: the P8 and P8max. Noticeable lacking during the announcement is the Ascend brand name. It seems Huawei has dropped it in favour of the simpler P8 and P8max model names. Huawei has traditionally targeted the P-series towards the high end segment in Europe by offering premium build quality in very thin form factors. This is the fourth iteration of the P-series after the first announcement of the 2012 P1 and following P6 and P7.
The P8
The P8 here is a worthy successor to the Ascend P7 as it continues tradition and design language, albeit in a slightly bigger form factor. The P8's design keeps the premium iindustrial language from the P7 while improving on details. This time we see a full uni-body design instead of the glass back employed on the P7, enabling for a more solid build.
The P8 bumps up the screen size to 5.2" compared to the 5" P7, while still maintaining the same 1080p resolution. The screen is employs a JDI IPS-Neo display with up to 1500:1 contrast ratio and 78.3% screen-to-body ratio. Huawei claims the power consumption has been reduced by 15%.
The phone is now powered by HiSilicon's latest SoCs , the Kirin 930 and Kirin 935. This is a two-cluster A53 design coming with four cores per cluster, for a total of 8 CPUs. The slower cluster comes in clocked at 1.5GHz, while the high performance cluster goes up to 2.0GHz on the 930 and 2.2GHz on the 935. Here HiSilicon employs a custom so-called A53e core, which is most likely a layout redesign of the A53 which allows for higher frequency. The standard 16GB versions of the phone come with the 930, while the premium 64GB versions employ the higher binned 935, and both SoCs have no other functional difference between themselves other than the 200MHz speed bump.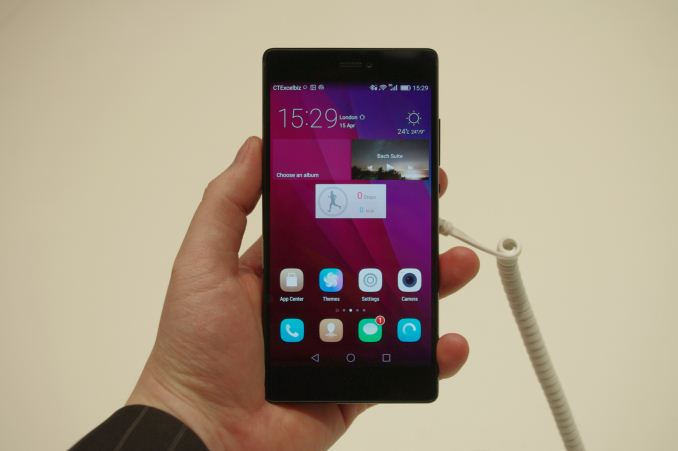 Both phones come with 16GB or 64GB NAND and a microSD expansion slot.
Huawei
Ascend P7
Huawei
P8
Huawei
P8max
SoC
HiSilicon Kirin 910T
4x Cortex A9@1.8GHz
Mali-450MP4
HiSilicon Kirin 930/935
4x CA53@1.5GHz,
4x CAA53e@2.0/2.2GHz
Mali-T628MP4

HiSilicon Kirin 930/935




4x CA53

@1.5GHz,




4x CAA53e@2.0/2.2GHz




Mali-T628MP4

RAM/NAND
2GB LPDDR3

16GB NAND
w/ microSD
3GB LPDDR3
​
16 or 64GB NAND
w/ microSD

3GB LPDDR3


​


16 or 64GB NAND




w/ microSD

Display
5.0" 1080p LCD
5.2" 1080p LCD
JDI IPS-Neo

6.8" 1080p LCD




JDI IPS-Neo

Network
2G/3G/4G LTE Cat 4
(HiSilicon Balong Modem)
2G/3G/4G LTE Cat 4
(Integrated HiSilicon Balong Modem)

2G/3G/4G LTE Cat 4




(Integrated HiSilicon Balong Modem)

Dimensions
139.8 x 68.8 x 6.5 mm,
124 grams
144.9 x 71.8 x 6.4 mm
144 grams
182.7 x 93.0 x 6.8 mm
228 grams
Camera
13MP (4160 x 3120)
Rear Camera

8MP Front Facing
13MP

Sony

RGBW sensor
(4160 x 3120)
Rear Camera w/ OIS

8MP Front Facing

13MP Sony RGBW sensor




(4160 x 3120)




Rear Camera w/ OIS



5MP Front Facing
Battery
2500mAh (9.5 Whr)
2680mAh (10.31 Whr)
4360mAh (16.87 Whr)
OS
Android 4.4
EmotionUI 2.3
Android 5.0.2 (64-bit)
EmotionUI 3.1
Android 5.0.2 (64-bit)
EmotionUI 3.1
Connectivity
802.11a/b/g/n + BT 4.0, microUSB2.0, GPS/GNSS,
DLNA, NFC
802.11a/b/g/n + BT 4.1, microUSB2.0, GPS/GNSS,
​DLNA, NFC
802.11a/b/g/n + BT 4.1, microUSB2.0, GPS/GNSS,
DLNA, NFC
SIM Size
MicroSIM
NanoSIM +
NanoSIM (w/o microSD)

NanoSIM +




NanoSIM (w/o microSD)
At 144.9 x 71.8 x 6.4 mm in dimensions, the P8 gains some size in both width and height over the P7, but still remains very handy due to the thinness. The industry seems to have founds its sweet-spot in the 5.2" screen size for conventional smartphone flagships.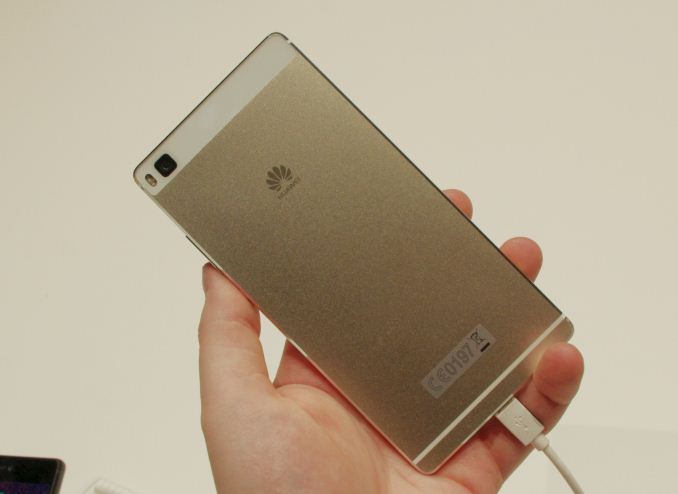 The phone is powered by a 2680mAh battery, and the phone comes with quick charging capability, with the included charger offering the capability by default.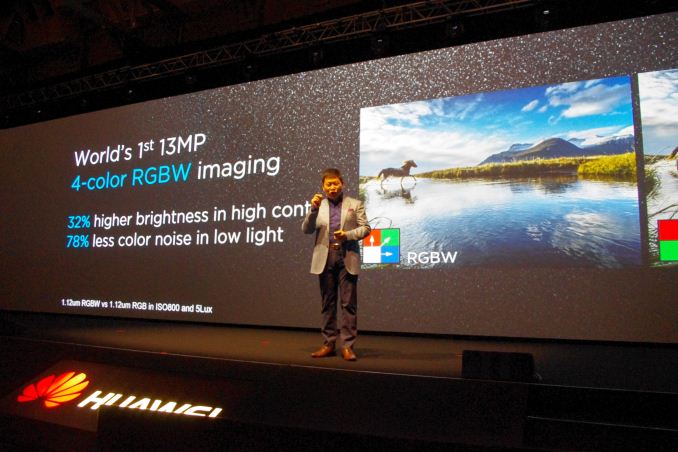 The biggest upgrade for Huawei is the inclusion of a 13MP shooter with optical image stabilization. The new sensor employs what claims to be a world-first four-colour Sony RGBW sensor, employing 1.12µm pixels. This is also the first time Huawei has employed OIS, and we hope both advancements will help the camera performance as we've seen some disappointing results from previous phones such as the Mate 7 and Honor 6. Huawei made some great advancements with the Honor 6 Plus and usage of a separate ISP chip. The P8 luckily seems to employ a similar external ISP, this time from Altek, enabling what Huawei claims to be "DSLR-level" of picture quality. A notable feature is the "Instant preview" function, the viewfinder actually shows what the phone captures. Huawei is also proud to boast a lack of camera bump on the backside, with the module and optics being flush against the rest of the phone.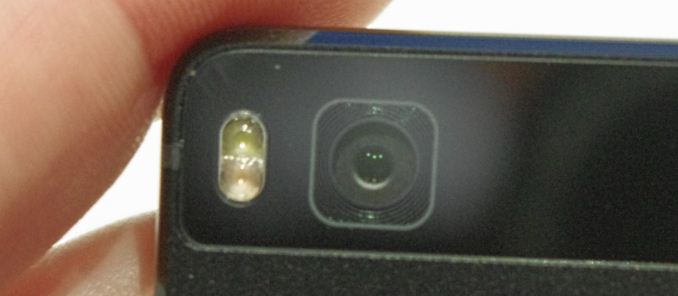 On the front camera we find a 8MP sensor, which should provide solid selfie and video conferencing capability.
In terms of communications and connectivity, the phone uses the Kirin's Balong integrated LTE modem with support for up to Category 6 speeds. The P8 uses a dual-antenna design with seamless switching to enable for better reception and avoidance of "Dead grip" scenarios. The phone employs a similar dual-SIM design as the Mate 7, employing two trays, one dedicated to a nanoSIM, and a second one which may be used as either a microSD slot or a secondary nanoSIM slot with dual radio capability. On the Wifi side, we see a noticeable lack of mention of 802.11ac, which is kind of a pity. Bluetooth though did get an upgrade to 4.1.
As an audio solution, the uses a high quality HiSilicon Hi6402 audio DSP with a smart PA and a single box audio chamber speaker system. Voice wakeup is also enabled by the audio SoC.
The P8 comes in a standard version in 16GB NAND "Titanium Grey", and "Mystic Black Champagne" colour options, and a premium version with 64GB NAND in "Prestige Gold", and "Carbon Black" colour options.
The P8max
The P8 Max is a 6.8" super-sized version of the P8. The screen is still a FHD resolution screen, with a claimed 95.9% colour saturation (sRGB gamut?) and a 82% screen-to-body ratio. There is a large 4360mAh battery included, which is even bigger than what we saw in the Mate 7. The P8max claims to have much better power consumption and less heat generation. The front camera sees a slight downgrade to 5MP, but retains the same rear 13MP shooter and ISP as the standard P8. A high thermal conductivity heating material cooling system enables for better skin temperatures. The phone's size comes in at 182.7 x 93.0 x 6.8 mm and a hefty 228g.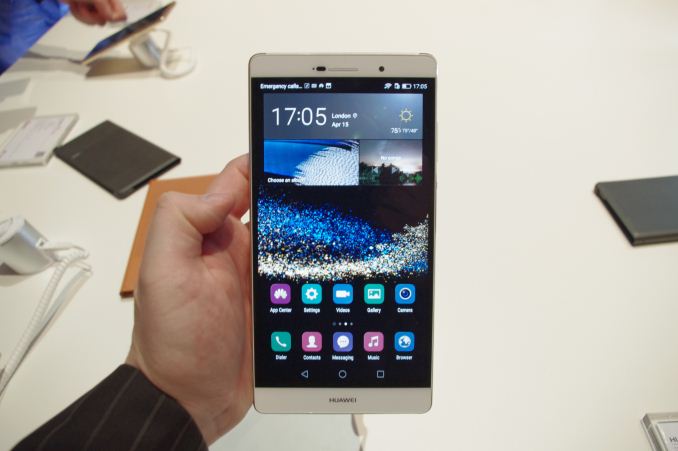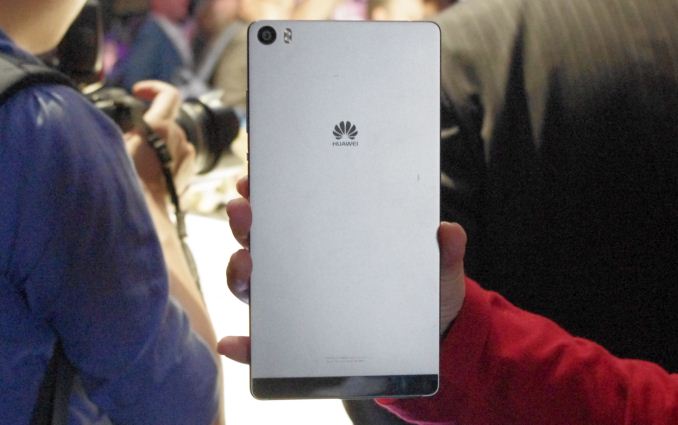 On the software side, both phones comes with Android 5.0.2 Lolipop and Huawei's own EmotionUI 3.1 customization of the OS.
Both phones will be globally available in 30 various countries in 1 month. The regular P8 comes in at a 499€ MSRP while the premium P8 comes at 599€. The P8max costs 549€ and 649€ for the 16 and 64GB versions, both unlocked and without contract.