Performance Metrics
The Intel PPSTCK1A32WFC ships with Windows 8.1 x86 because the driver support for the Atom SKUs belonging to Bay Trail-T is restricted to Windows 8.1 x 32 bit, and Android x 64 bit. This meant that many of the benchmarks in our standard test suite for low power desktops / industrial PCs could not be processed on the Compute Stick.
Futuremark PCMark 8
PCMark 8 provides various usage scenarios (home, creative and work) and offers ways to benchmark both baseline (CPU-only) as well as OpenCL accelerated (CPU + GPU) performance. We benchmarked select PCs for the OpenCL accelerated performance in all three usage scenarios. Larger-sized systems that beat the Compute Stick in the benchmarks below usually have desktop or notebook-class Bay Trail SoCs. They are clocked higher and also have better thermal solutions.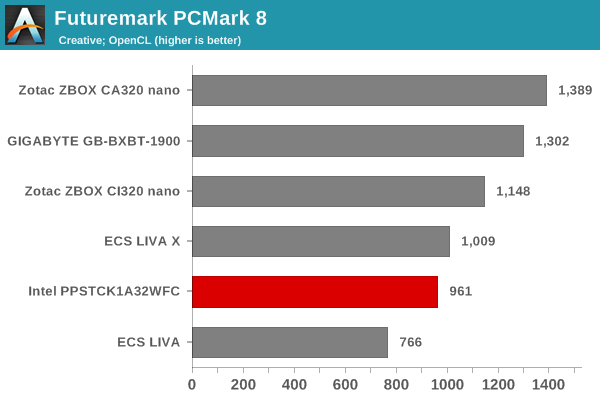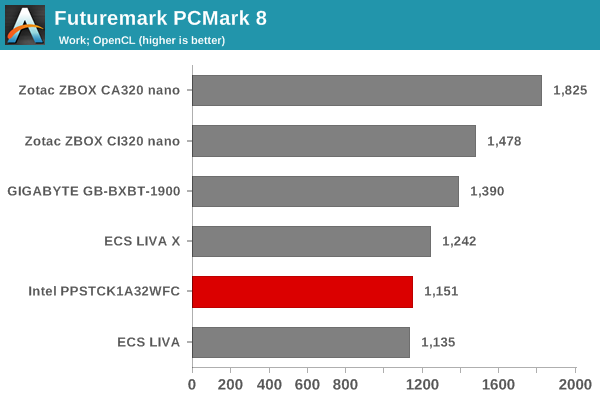 Miscellaneous Futuremark Benchmarks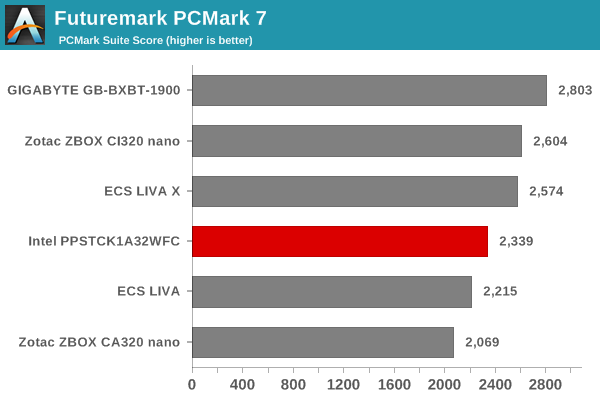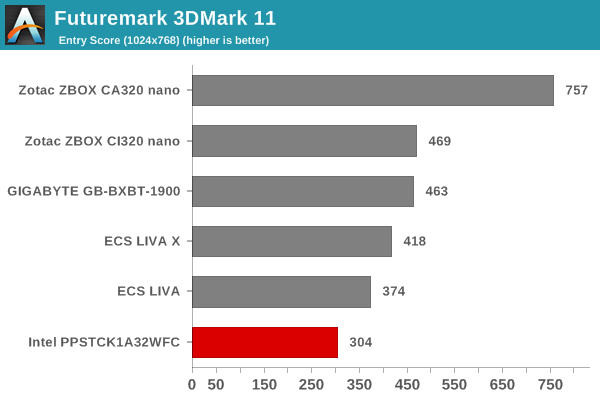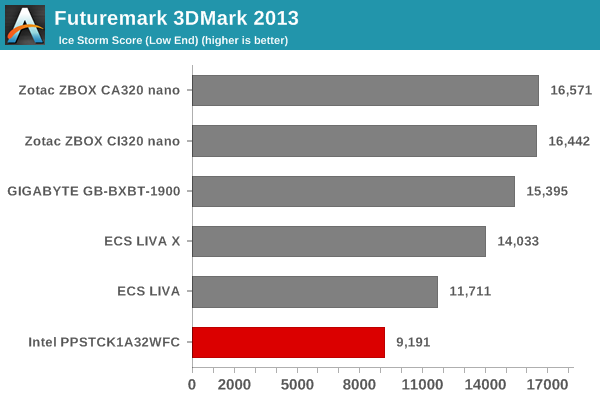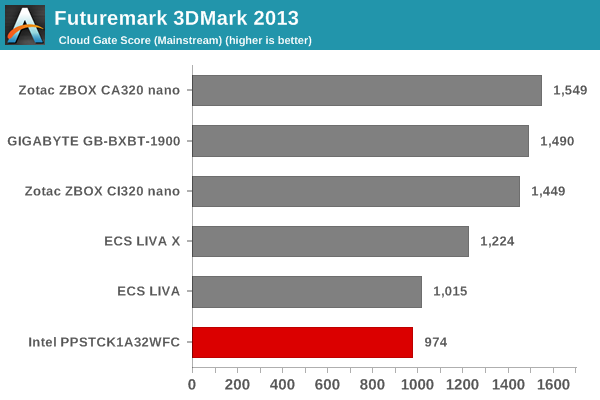 In the other Futuremark benchmarks evaluating 3D performance, we find the Compute Stick coming in last - this was to be expected, given that the GPU is clocked low at 311 MHz and also happens to operate mostly in the thermal limits put in place for a tablet platform.
We now move on to look at the benchmark modes in programs used on a day-to-day basis, i.e, application performance and not synthetic workloads.
x264 Benchmark
First off, we have some video encoding benchmarks courtesy of x264 HD Benchmark v5.0. This is simply a test of CPU performance. The Compute Stick manages to score better than the ECS LIVA in most of these tests thanks to the four cores (compared to the two in the latter).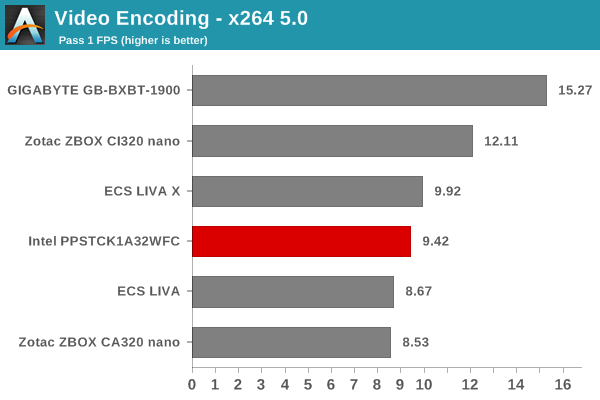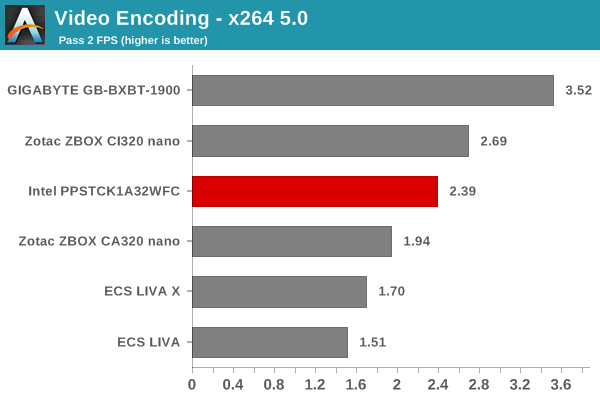 7-Zip
7-Zip is a very effective and efficient compression program, often beating out OpenCL accelerated commercial programs in benchmarks even while using just the CPU power. 7-Zip has a benchmarking program that provides tons of details regarding the underlying CPU's efficiency. In this subsection, we are interested in the compression and decompression MIPS ratings when utilizing all the available threads. Again, the advantages of a quad-core SoC come through.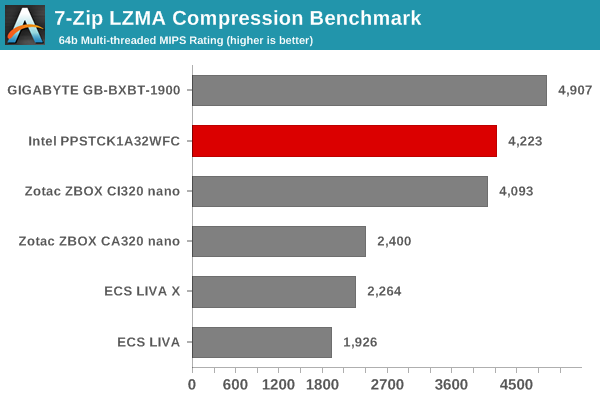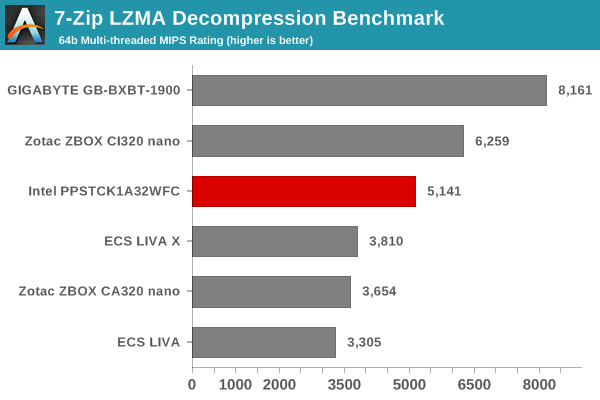 TrueCrypt
As businesses (and even home consumers) become more security conscious, the importance of encryption can't be overstated. CPUs supporting the AES-NI instruction for accelerating the encryption and decryption processes have, till now, been the higher end SKUs. However, with Bay Trail, even the lowly Atom series has gained support for AES-NI. It is quite unlikely that any usage scenario for the Compute Stick is going to involve extensive encryption capabilities. However, the presence of AES-NI support in the Compute Stick's SoC piqued our interest.
TrueCrypt, a popular open-source disk encryption program can take advantage of AES-NI. Its internal benchmark provides some interesting cryptography-related numbers to ponder. In the graph below, we can get an idea of how fast a TrueCrypt volume would behave in the Intel PPSTCK1A32WFC and how it would compare with other select PCs. This is a purely CPU feature / clock speed based test. Interestingly, the Atom Z3735F is the only Bay Trail SoC in the graph below to have AES-NI capabilities.