System Performance
The review unit that I received should be no slouch for performance, since it has the Intel Core i7-5600U processor. We have seen a few Broadwell powered notebooks already this year, including Core M and Core i5 models, but this is the first Core i7 that has come across my desk. The i7-5600U is a dual-core processor with Hyperthreading, and it has a base frequency of 2.6 GHz and turbo of 3.2 GHz. All of this processing occurs within a 15 watt TDP.
The memory is 8 GB of DDR3L-1600, and it is in dual-channel mode. Graphics are the Gen 8 Broadwell graphics with 24 Execution Units and the GPU is 300-950 MHz.
The final piece of the performance puzzle is storage, and this X1 Carbon has the fastest SSD available for a laptop in it. The Samsung SM951 drive is a 512 GB PCIe SSD, and despite the lack of NVMe in this particular model it is a potent offering. Kristian reviewed the SM951 in great detail so if you want all of the particulars, check that out.
Performance Graphs
For performance workloads, the X1 Carbon was run through our standard laptop workload. For comparison, I have chosen a sample of other Ultrabooks and other similar devices like the Surface Pro 3, and I have also included the 2013 X1 Carbon as well which had the i5-3427U processor, but if you would like to compare the X1 Carbon to any other device we have tested, please use our Laptop Bench. I have seen some questions about why some devices are not included in all of the results, and it boils down to our benchmark workloads are always evolving, so older devices would not have been run through some of the newer workloads. We do not get to keep all of these devices in order to go back and re-run older ones through the new workloads.
PCMark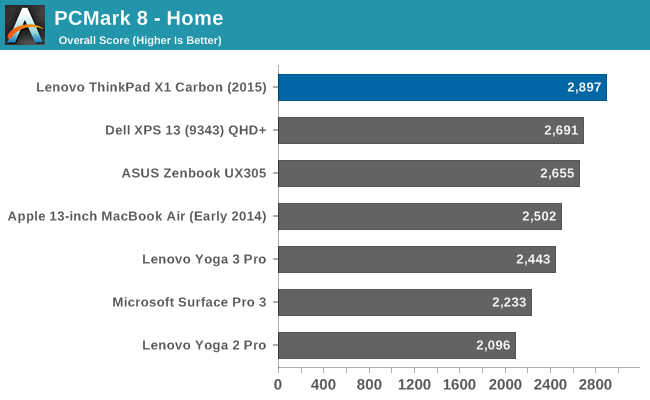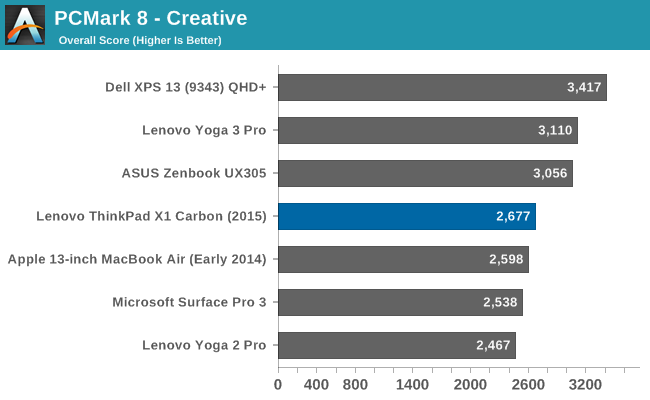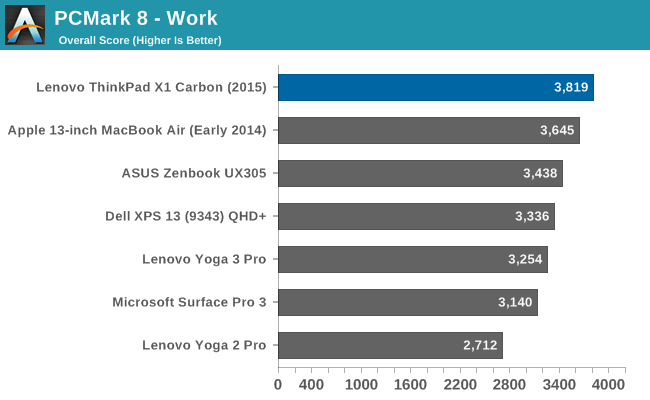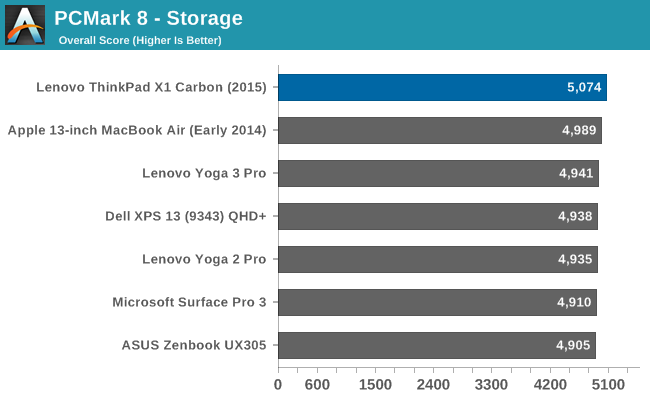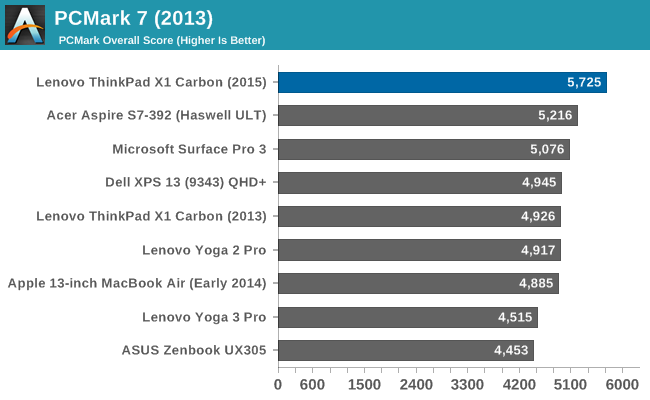 PCMark tries to replicate real world use scenarios with its various workloads. It will have sustained performance as well as burst performance requirements, and storage is also a factor in the scores. Overall, the X1 Carbon aces these tests with its combination of i7 processor and PCIe SSD. The PCMark storage score shows the X1 Carbon as the fastest device we have tested, but due to the nature of the benchmark the scores are all very close to each other. Make no mistake though. This is a drive that can read at 1500 MB/s. For a full breakdown on the drive, please check out Kristian's review linked at the top of this page.
Cinebench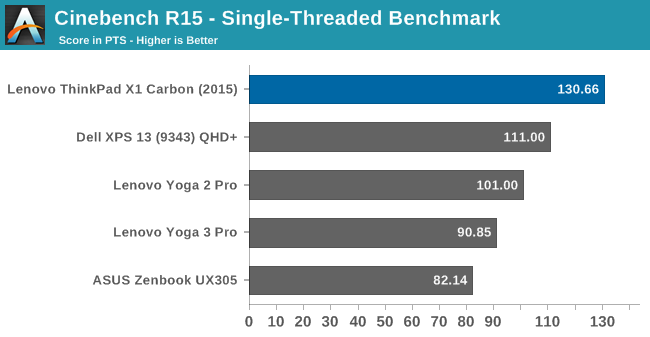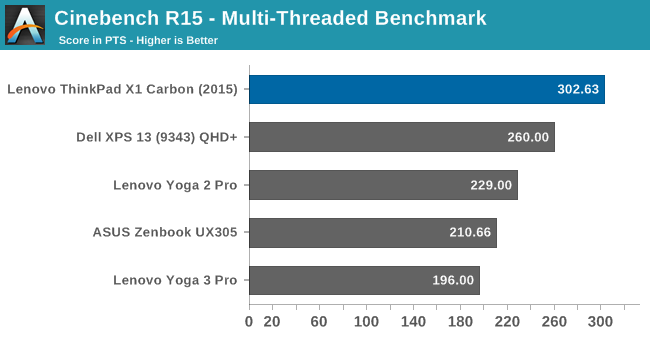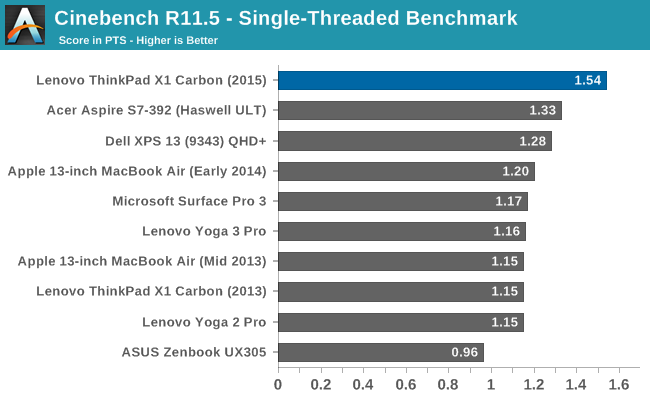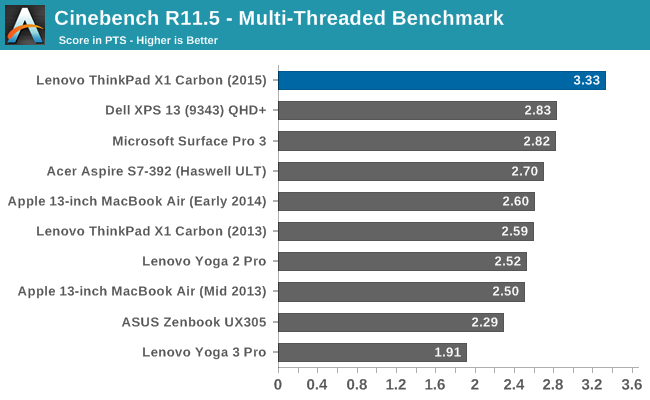 Cinebench renders an image, and can leverage multiple cores. It loves IPC and frequency, both of which the i7 has in abundance, so the X1 Carbon sits at the top.
x264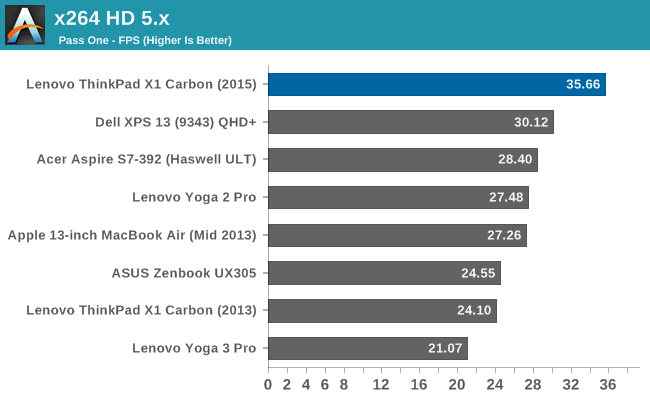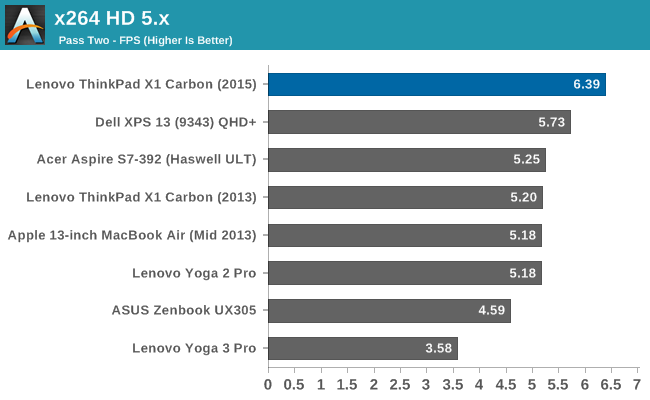 This test converts several videos, and much like Cinebench it loves more cores and higher speeds. The i7-5600U easily passes all over U class notebooks we have tested in this test. This test is all about sustained performance, since it can last an hour or more.
Web Tests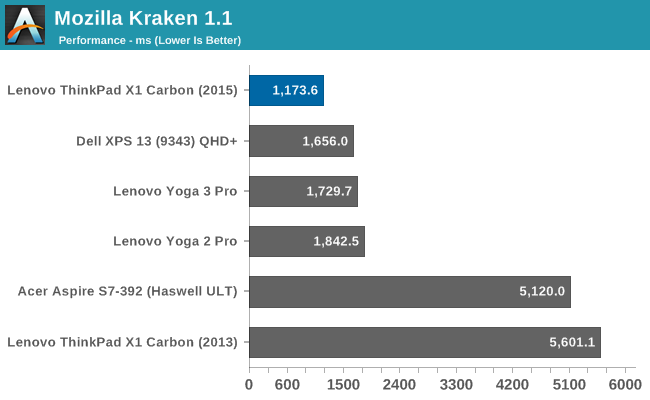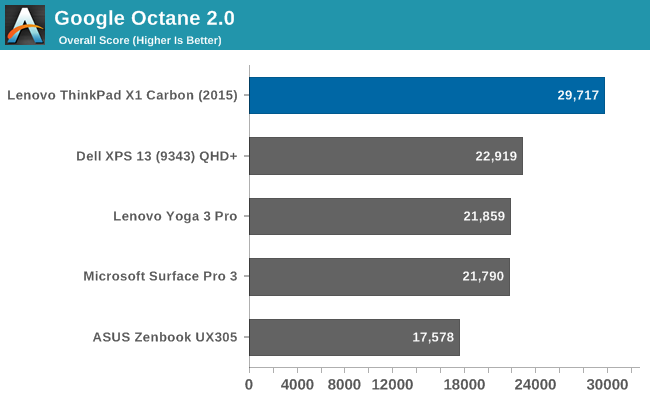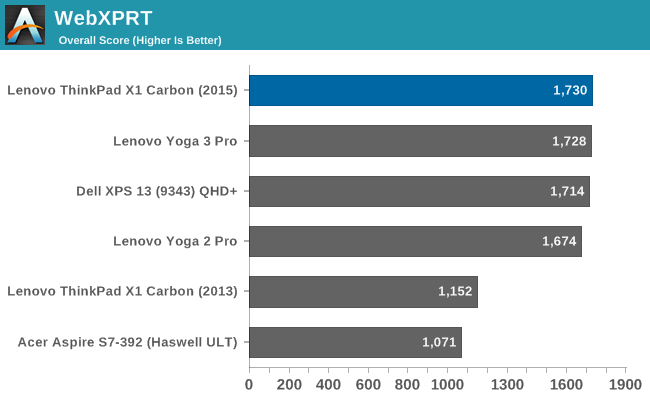 With a 3.2 GHz turbo frequency, the i7-5600U has no issues with javascript. As you can see in these results, it is by far the fastest Ultrabook tested in these kinds of short workloads.
System Performance Conclusion
With 8 GB of memory, a Core i7 processor, and the fastest consumer SSD available, day to day tasks on the X1 Carbon are done with ease. This is easily one of the fastest Ultrabooks around when configured as the review unit is. I don't love that the base model comes with just 4 GB of memory, but the cost to move to 8 GB is not a lot and should be done by all prospective buyers. I'm not sure if we are at the point where 16 GB of system memory would be needed in an Ultrabook, but it likely will not be long before that does happen.