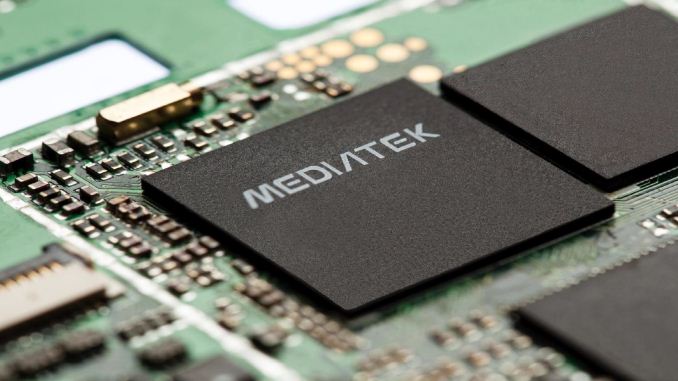 MediaTek started promoting its new Helio branding for SoCs back at MWC this year, and we had the please to cover the the new Helio X20 announcement just a few weeks ago. While the X-series is supposed to target the higher end (dubbed "eXtreme Performance"), the P-line is aimed at the budget mid-range ("Premium Performance" as MediaTek calls it). Today's announcement of the Helio P10 marks the first SoC in the P-series to adopt the new branding.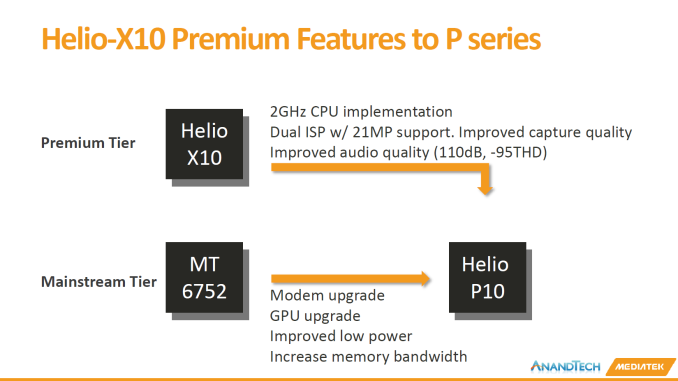 The P10 is the direct successor to last year's MT6752, which saw some quite widespread in adoption by Chinese vendors such as Meizu (M1 note), Gionee (Elife S7) or JiaYu (S3) and others. The P10 improves on its predecessor, the the MT6752, by taking a lot of improvements which were introduced with the X10 and X20.
On the processor side, the CPU configuration remains a dual-cluster with four A53 cores per cluster. The MT6752 clocked both clusters at the same clock, running from 1.7 up to 2.0GHz as its maximum frequency depending on the chip bin. The P10 keeps this 2.0GHz maximum clock for its performance cluster, but has a slower cluster at lower speeds which we weren't yet able to confirm with MediaTek 1.1GHz.
MediaTek 2015 Main Lineup
SoC
MediaTek
Helio X20
(MT6797)
MediaTek
Helio X10
(MT6795)

MediaTek


Helio P10
(MT6755)

MediaTek


MT6752
CPU
4x Cortex A53 @1.4GHz

4x Cortex A53 @2.0GHz

2x Cortex A72
@2.3-2.5GHz
4x Cortex A53 @2.2GHz

4x Cortex A53 @2.2GHz
4x Cortex A53
@1.1GHz



4x Cortex A53 @2.0GHz

4x Cortex A53
@1.7-2.0GHz

4x Cortex A53
@1.7-2.0GHz
Memory
Controller
2x 32-bit @ 933MHz
LPDDR3

14.9GB/s b/w
2x 32-bit @ 933MHz
LPDDR3

14.9GB/s b/w
2x 32-bit @ 800+MHz
LPDDR3

12.8+GB/s b/w

(To be confirmed)
1x 32-bit @ 800MHz
LPDDR3

6.4GB/s b/w
GPU
Mali T8??MP4
@700MHz
PowerVR G6200
@700MHz

Mali T860MP2




@700MHz

Mali T760MP2
@728MHz
Encode/
Decode
2160p30 10-bit
H.264/HEVC/VP9
decode

2160p30
HEVC w/HDR
encode
2160p30 10-bit
H.264/HEVC/VP9
decode

2160p30
HEVC
encode

1080p30




H.264 & HEVC




decode





1080p30




H.264




encode

1080p30




H.264 & HEVC




decode





1080p30




H.264




encode

Camera/ISP
Dual ISP
32MP @ 24fps

21MP single or




16MP + 8MP dual

21MP single or
16MP + 8MP dual
16MP
Integrated
Modem
LTE Cat. 6
300Mbps DL
50Mbps UL

2x20MHz C.A.
(DL)
LTE Cat. 4
150Mbps DL 50Mbps UL

LTE Cat. 6


300Mbps DL
50Mbps UL



2x20MHz C.A.




(DL)

LTE Cat. 4


150Mbps DL
50Mbps UL

Memory bandwidth was supposedly also increased, and I suspect, but again in need of confirmation, that we're talking about finally switching over to a dual-channel memory controller, as the MT6752 was still sporting a single 32bit controller. The P10 is aimed at 1080p devices so it looks that MediaTek is keeping the graphics performances conservative and power efficient.
MediaTek also upgrades the GPU from a Mali T760 to a T860, but keeps the shader core count steady at 2. We again see some interesting power claims concerning the T8XX series as MediaTek claims the new GPU uses only 70% of the power of the previous T760 iteration while improving performance by 20%, but we might be not talking solely architectural improvements as the P10 comes on a brand-new silicon manufacturing node.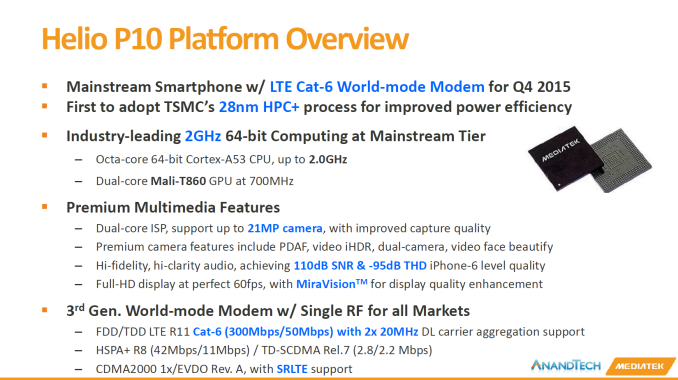 The P10 is the first SoC to be announced on TSMC's 28HPC+ process. TSMC published the 28HPC process last autumn as a successor to 28HPM - with the advantages of a slight die shrink and improved power characteristics. 28HPC+ is yet another iteration that was publicly talked about last April, and promises a 15% gain in performance or a quite large 30 to 50% reduction in leakage at the same speed when compared to 28HPC.
We'll continue to see the 28nm process to live on for a long time in the mid-range and cost-sensitive segments as it marks the sweet-spot in the transistors/$ scaling, and 28HPC(+) is one of the first enablers of this life-time extension.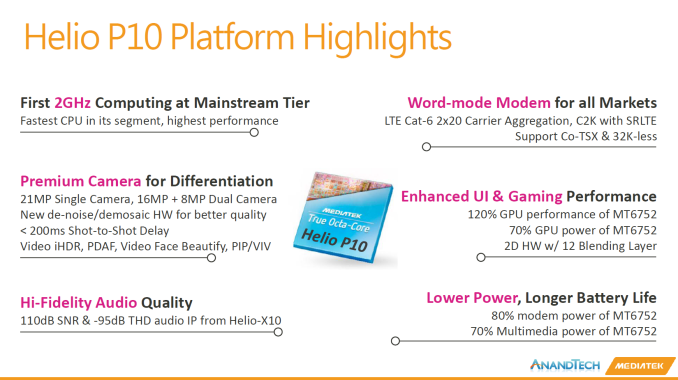 The Helio P10 also takes over the modem sub-system that we've seen announced in the X20 - with LTE rel.11 Category 6 capability and 2x20MHz carrier aggregation on the download stream. This also includes crucial CDMA2000 support that MediaTek needs to be able to penetrate the North American and other limited markets.
The mainstream lineup is the Taiwanese company's bread & butter and is the source of where MediaTek has seen most of its notorious successes. The P10, being part of this segment, will very likely see similar widespread adoption in low-cost devices as the Chinese smartphone boom continues to grow.
The Helio P10 is supposed to be sampling in early Q3 2015 and with phone mass-production happening towards the end of the year in the fourth quarter.