System Performance
The Venue 10, much like the Venue 8, is fairly unique among the Android devices that we have tested. While most Android smartphones and tablets employ ARM based SoCs, Dell has opted to use Intel's Atom Z3580 processor. We saw this SoC in the Venue 8, and more recently in the ASUS ZenFone 2. Z3580 is built on Intel's 22nm process, and sports four Silvermont cores with a max burst frequency of 2.33GHz. To test the performance of the Venue 10 we turn to our standard web based benchmarks, along with Basemark OS II, before moving onto benchmarks that focus on the GPU and NAND. For our 2015 benchmark suite we've added in the latest iteration of WebXPRT to our web browser tests.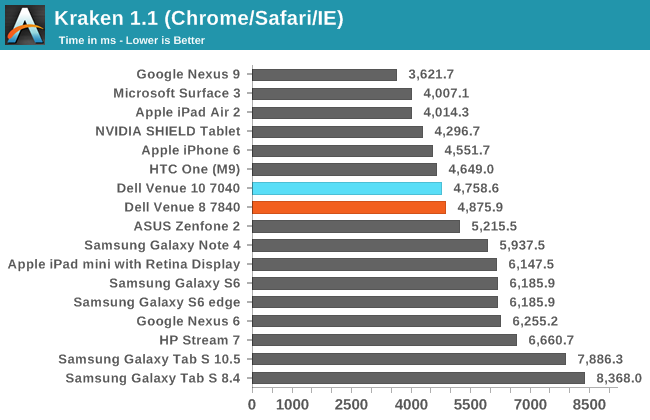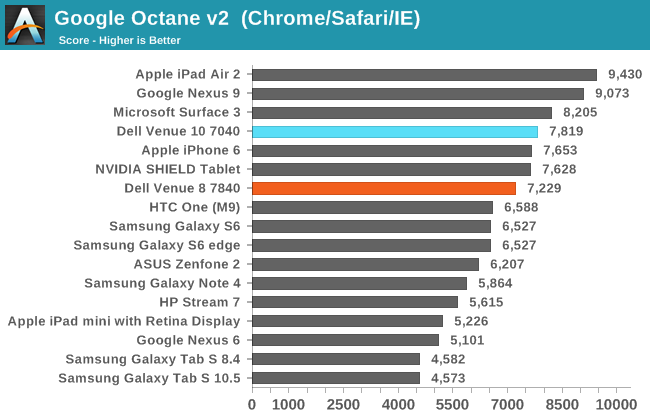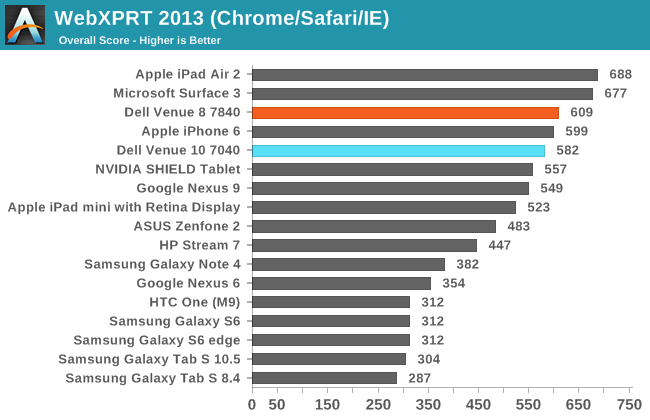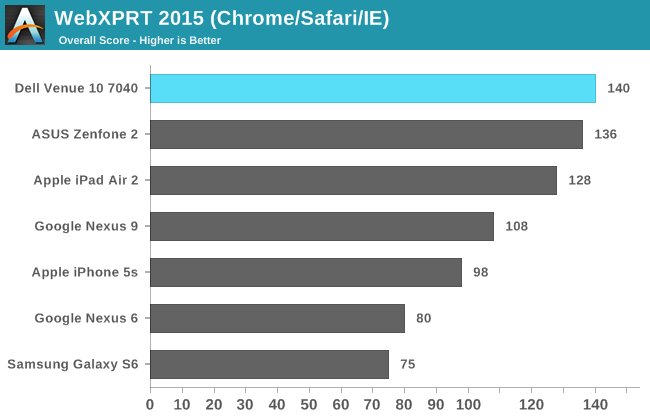 As usual, Intel's Z3580 SoC performs very well in all of our web browser benchmarks. However, it ends up trailing the iPad Air 2 and Nexus 9 in several cases, and when your tablet retails for $499 you really need to have top notch performance. The Venue 10 is launching later into Moorefield's lifetime than the Venue 8 did, and it doesn't offer it in an incredibly inexpensive package like the ASUS ZenFone 2. While the web performance is not bad by any means, it's not as impressive at this point in time and in a $499 device.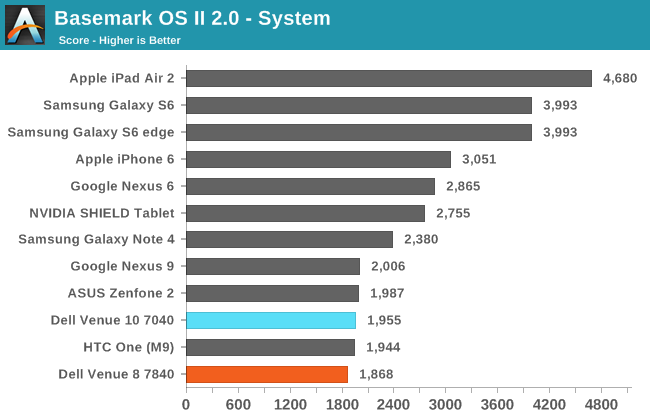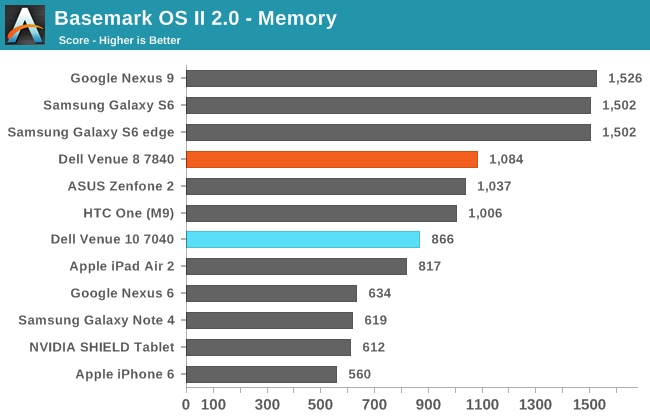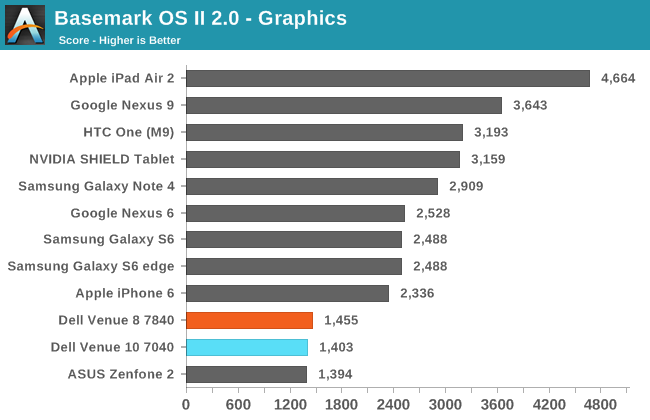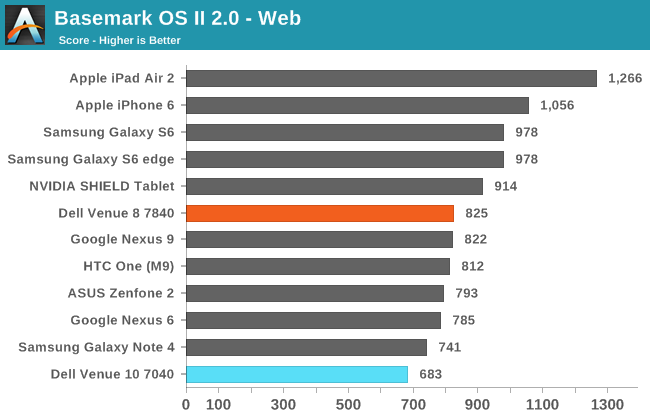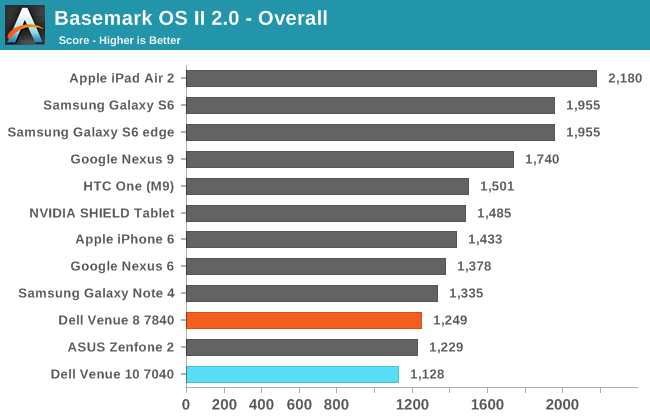 The performance in Basemark OS II is unfortunately not competitive with the other flagship tablets and smartphones on the market. The Venue 10 falls behind the Venue 8 in the NAND memory test, and regresses to varying degrees in every other test with the exception of the system test. Graphics performance is also very far behind Tegra K1 and Apple's A8X. This leads to an overall score that sits at the bottom of our list. While this was easier to let slide with more inexpensive devices like the ZenFone 2 and Venue 8, there's no way to get around the fact that the overall performance is just not as good as the Nexus 9 and iPad Air 2.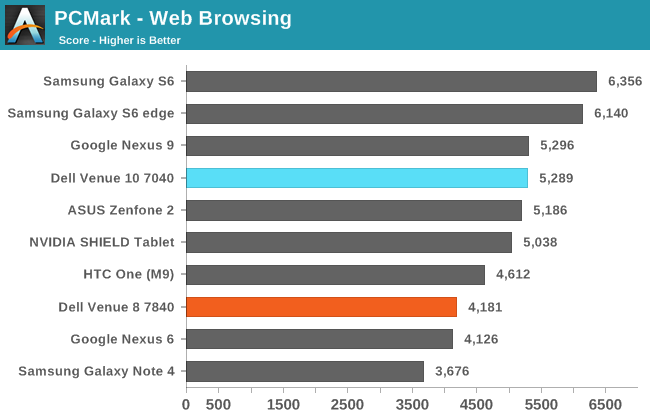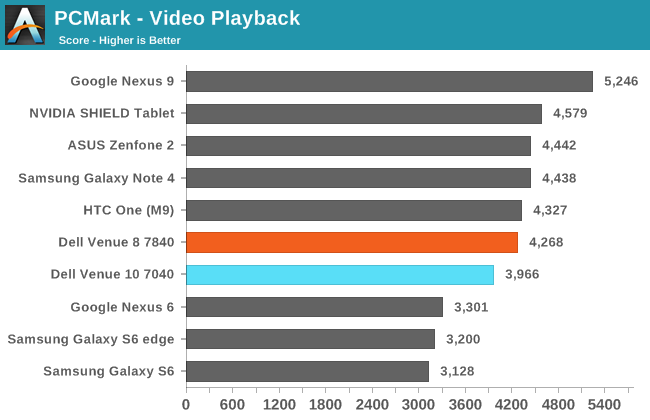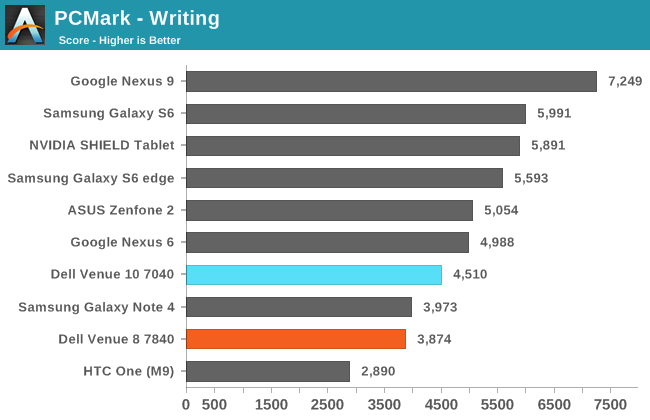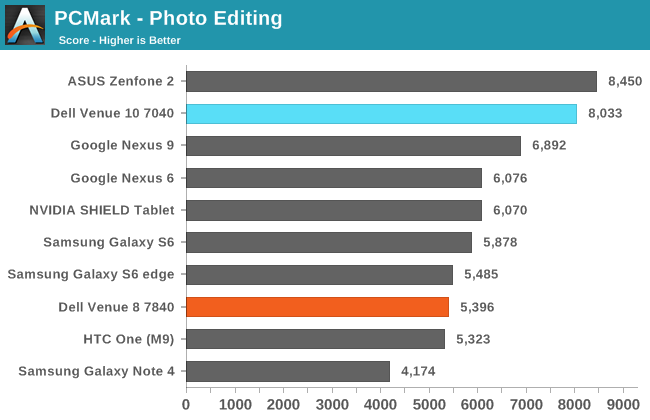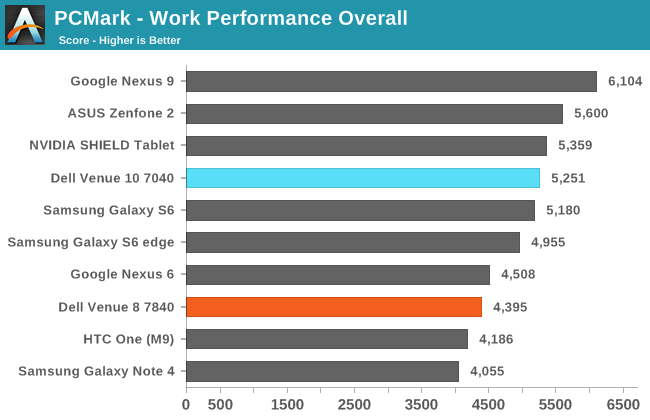 In PCMark we see improvement almost across the board from the Venue 8 on Android KitKat to the Venue 10 running Lollipop. These are most certainly software related improvements, as the Venue 10 shares the same SoC as the Venue 8 and neither device appears to handle throttling better than the other. The one exception is the Video Playback sub-test, which has the Venue 8 performing better than the Venue 10. I suspect that this is due to the sequential read performance of the Venue 10's NAND causing long seek times. In the grand scheme of things, the Venue 10 certainly performs better in PCMark than the Venue 8 did on KitKat, but it still sits behind the Nexus 9 by a significant margin.